Lyme Splash Water Polo Championship

Event Details
Lyme Splash is launching the fourth Lyme Splash Water Polo Sea Championship 2023 to take place on Saturday 5th & Sunday 6th August starting at 08.00 on Saturday & 8.30 on Sunday.
There are two floating pitches at The Pool, at the back of The Cobb Centre, on The Cobb, Lyme Regis in front of the pontoons.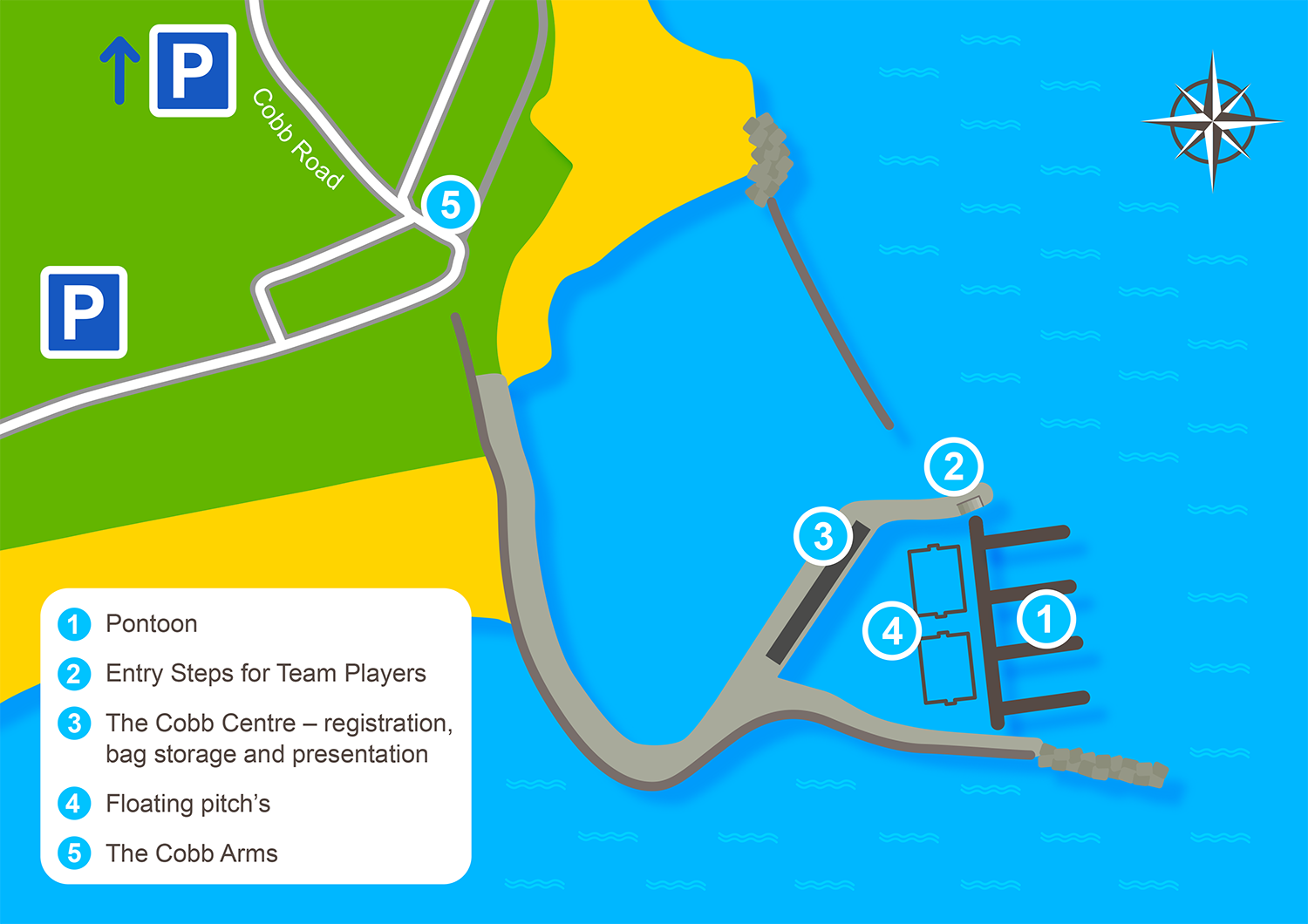 Entry cost is £110 per team
Each game will be played as two halves each lasting 10 minutes each.
Team Leaders need to be at CHECK IN at The Fishing College at the Cobb Centre, on The Cobb at 07.30.
Each team will be able to collect their water entry time at Check In.
Team Members will also be able to safely leave one bag per person at The Fishing College too. Refreshments for players will also be available during the matches.
Everyone taking part will be expected to adhere to the following:
Code of Conduct for Lyme Splash Sea Water Polo Championship:
Our championship takes place in Lyme Regis Harbour with kind permission of Dorset Council. It is a working harbour and we share it with local businesses, local harbour users and tourists.
All behaviour should respect other users, the safety of all and be a testament to Water Polo. This is an opportunity be ambassadors and to attract more people, especially young people, to the game.
1. Any request should be asked politely and if there are any access issues they should go through a member of the Lyme Splash Crew.
2. No one is allowed on the pontoons except time keepers, referees for each game, one coach per team and substitutes must stay within the designated area until called.
3. No clothing allowed on the pontoons – there will be a designated area for clothing of those in the water nearby. Substitutes can bring a dry robe / towel and water bottle, and kept tidy within their designated area.
4. No swearing – either at players, or players at each other, crew or officials- in or out of the water.
5. Referees need to respect and be respected, and represent and ensure others adhere to the rules of the game and every team and its members are treated, and treat each other, fairly and without prejudice or bias.
6. All of the rules that apply to the championship need to be communicated at least 4 weeks prior to the games to team captains via Lyme Splash and confirmed that this has also been communicated to the referees themselves.
On Saturday Evening we will have a gathering of players & supporters at The Power Boat Club. Tickets for food needs to be pre-booked.
Camping will be available exclusively for players & their supporters at Haye Farm, Lyme Regis – booking required.
For further details on the camping and BBQ, and links to pre-book tickets please visit the Camping and BBQ page.
On finishing the event on Sunday there will be a presentation celebration. Winners Medals and delicious prizes will be presented by our wonderful headline sponsor Baboo Gelato.