Lyme Regis to Charmouth Challenge Sea Swim

Swimmers Overview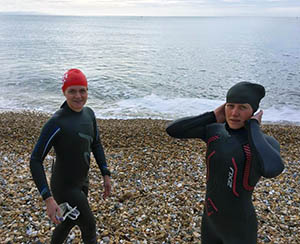 The Lyme Regis to Charmouth Challenge is an open sea journey of 3.15k around part of our beautiful Jurassic Coast in Dorset to raise money for charities selected by Lyme Splash. This year it will be Ghost Fishing UK, Powder Monkeys, BSharp & Plastic Free Lyme Regis
Swimmers will be split into several  'WAVES'.
Those that wish to go faster will be in the earlier Waves and those who wish to be a bit more leisurely will follow afterwards.
All will have to be competent open water swimmers and this is a full wetsuit event unless you have permission from the event organisers to skin swim.
We take safety very seriously and trust you do too. You will have a great team of support in the water and on shore but please note this swim is at your own risk.
You will receive a swim cap, a barcoded wrist tag & bag label on registration on the day & if you complete the swim a Lyme Splash Badge.
The course is 1.7 nautical miles / 3.15 k / 1.96 miles and will be buoyed but not extensively. It starts in Lyme Regis to the left of the North Wall on the sandy beach and finishes on West Beach to the left of the River Char as you approach from the sea.
For details on checking in, start & finish procedure & presentation – view our guide and schedule for what happens on the day.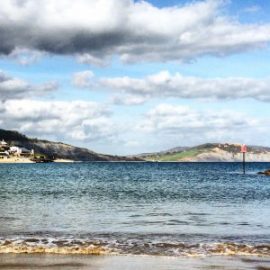 £45 to register – this includes: Entry to Lyme Regis to Charmouth Challenge 3.5k Sea Swim, a hot chocolate drink, biscuits & Rib Ride , swim hat, scan tag & a Lyme Splash badge for completion of the swim & a chance to win one of eight delicious prizes from Dorset Chocolatiers Chococo.
This event was created for you to enjoy and to raise money for our chosen charities.
We've tried to be generous and hope you will be too. We would ask for a donation of £30 to our collective chosen charities or for you to be sponsored to raise even more for them.
£30 is only asking six people for a fiver each!
You can also enter our great raffle only £1.00 per ticket!
Should we have to cancel the event due to weather conditions there will be no refund, as to insure against this would make the cost of registration prohibitive.