Lyme Regis to Charmouth Challenge Sea Swim

About Us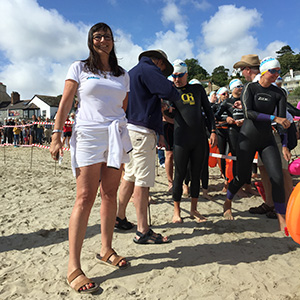 Lyme Splash is passionate about our beach, ocean & beautiful coastline.
We run events each year in the sea!
The Lyme Splash Water Polo Trophy
Lyme Regis to Charmouth Challenge 3.15k Sea Swim
Huge thanks go to the following without whom this event would not happen:
Lovely Lyme Bay Holidays for their continued headliner sponsorship and support. Dorset's finest: Chococo for their delicious sustaining hot chocolate drink,  Moores yummy Biscuits for each swimmer & volunteer!
Our wonderful volunteers on land & on & in the sea, safety boats from Lyme Regis Gig Club, Lyme Regis Powerboat Club,Lyme Regis Sailing Club, Lyme Kayak Hire, and Lyme Rib Rides for whizzing our swimmers back, Charmouth Parish Council & Lyme Regis Town Council. Dorset District Council for their permission in allowing this event to happen & our Harbour Master & his deputies for all their support behind the scenes & on the day.
Dave Boughton for the graphics & photographs , Chris Charles for our connected website & all its cogs & whistles!
We raise awareness & money for both local & national charities through donations, sponsorship and our glorious annual raffle!
This year's charities are: BSharp who were also responsible for enabling the creation of our Lyme Splash Song, & Plastic Free Lyme Regis.
We celebrate & support the water facilities that Lyme Regis & Lyme Bay has to offer. Highlighting the wealth of water-sport clubs & opportunities here, working together for both the local community, visitors & to attract more business into the area.
Lyme Splash is a not-for-profit organisation, run by volunteers & supports a Plastic Free Lyme Regis.